A number of protestors led by a group named the Democracy Hub have been arrested by the Ghana Police Service around the 37 military hospital. The protestors were arrested early in the morning on Thursday, September 21, 2023 and taken to the Accra Regional Police Headquarters.
These protestors of the #OccupytheJulorbiHouse (a satiric misspelling  for "Occupy the Jubilee House")+) took to the streets to protest the economic hardships in the country as well as calling for good infrastructural developments by the government.
The arrests follow a statement released by the Ghana Police Service on Wednesday, September 20,2023 in which the Police claimed it had filed an application in the court against the planned protest to occupy the Jubilee House.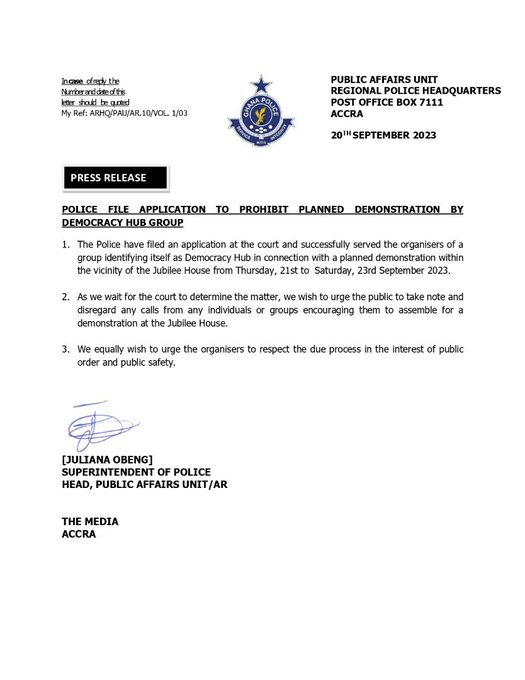 "The Police Service have filed an application in court and successfully served the organisers of a group identifying itself as the Democracy Hub in connection with a planned demonstration within the vicinity of the Jubilee House………"
The police further stated that application was made for public safety and the interest of public order.
The Democracy Hub also refuted the claims by the Police that they have been served an order from the court to halt their plans of demonstration.
The Police also countered with evidence proving that the Demonstration Hub were truly served through their lawyers.
In spite of these developments, the Hub went on with the protest resulting in the arrest of some protestors.
The protestors expressed their discomfort with the arrests claiming the arrests were unconstitutional and not in accordance with democracy.  They added that these arrests define the suppression of democracy under this government.
Video Here:https://x.com/Popony_/status/1704768746709983310?s=20
The Democracy Hub awaits further developments.